One simple hack will make life better in Darwin. Install automatic gates!
As you know, when it rains, it pours, in Darwin and Palmerston. And getting out of the car to open or shut your gates in a downpour can really, well, put a dampener on your day.
But by adding an automatic gate motor to your gates can give your happiness a big boost and make coming or going at your home or office a breeze – a dry breeze, that is!
Let's look at why automatic gate openers or sliders are so invaluable in the Top End, and worth not only choosing correctly in the first place, but servicing regularly so they don't fail you when you need them most. 
Dunwrights Air & Electrical owner, Jon Story, realised just how much he took his automatic gate opener for granted when he hurt his leg and needed crutches for a while. 
Shower fully clothed or get an electric swing gate opener or automatic sliding gates – it's that simple
Just think back to 7.45AM on a Tuesday and you're late for work in the middle of the wet season. You can see your automatic sliding gates in front of you, through the rain bouncing off the windscreen of the car..
It's the second time this week, with screaming kids in the back seat late for school also.
As the skies above open  and a deluge of water falls from above,  you press that remote control gate opener only to hear unsatisfying half beep and the automatic gate doesn't move a bit.
Most people who choose Dunwrights Electrical to install their automatic sliding gate opener blame Darwin weather for their decision.
'I may as well showered fully clothed', is a pretty common story that pushes people to take the next step to the ease and DRY comfort of using a remote control to slide open their gates from the car.
How do you operate an electric gate?
You can open or close your electric gate motor in a number of ways.
The most common we supply in Darwin and Palmerston are:
A remote control
A swipe card or fob system
A vehicle sensor, which can be a loop detector or a hardwired controller inside your car
Intercom
Smartphone
 Beyond normal opening and closing, you can ask us to add options and safety features including an auto-lock, auto-close, and even an electronic or mechanical lock which can withstand up to 2 tonnes in force (stronger than most gates).
These features mean your electric gate will not only be convenient but can boost security and extra control. For example, adding an intercom system with a keypad for pedestrian access, can provide you with great peace of mind that the only people entering and leaving your property are the ones you give permission to!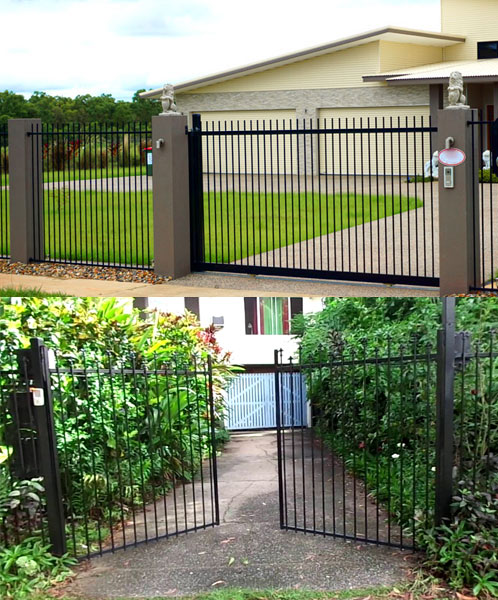 We wish there was one, simple answer. The fact is that the best sliding gate opener for you will depend upon your location, cost, and expectation.
Different brands have different features, pros and cons. We stick with a couple of brands that we know well and that have respectable warranty. When you contact us, we'll talk it through so we can suggest the one that does everything you want it to do and works for a long time.
Automatic gate opener reviews are worth reading but, for peace of mind, rest assured we've done that hard work for you over many years, which is why we supply what we believe is the best kit on the market.
You certainly can!
It's a fantastic feature to have being able to operate your gate opener from anywhere in the world as long as you have wifi.
We prefer the wifi video intercom with electronic output to control an electric gate or roller door. This is because it makes ease of access brilliant, and secure.
It's like having universal remote control that you can share with someone else to allow or disallow access. It's a fantastic feature.
Plus, little extras include being able to turn courtesy lights on and off for when guests or family members need to come and go in the dark.
This unit can also run on full solar.
No, they're not.
Dunwrights Air & Electrical can build you a new gate system to suit your entryway and install your preferred type of gate – single swing gate, double swing gates, or automatic sliding gates.
If you have a very wide opening, we'll guide you to selecting our commercial grade powered electric sliding gate operators because they can handle gates up to 8 metres wide and sometimes more!
If you have a restricted area, we can supply and install some newly designed folding cantilever gates. Perfect for tight spaces.