Mitsubishi Heavy Industries Air Conditioning – Your new split air conditioner installation for Darwin is here
Dunwrights and Mitsubishi are proud to offer the latest range of  state of the art and efficient air conditioning units per for the split air conditoner installation in your for your home YSA Inverter Residential Air Conditioner from Mitsubishi offers a new focus on cool, cleaner air with a MINIMUM 5 star energy rating.
Each Mitsubishi air conditioning system within the SR series offers an easy to use controller panel with a variety of functions. The clean air system is constantly filtering to clear the air of all odours and allergens and the stylish and unobtrusive wall units are quiet in operation.
Mitsubishi Heavy Industries – the safe bet for air conditioning in Darwin
SELF CLEAN
Our Mitsubishi Heavy Industries air conditioners clean themselves
ALLERGEN CLEAR
The unique "allergen clear system" not only removes allergens but controls them.
CUSTOM SYSTEMS
Dunwrights Air & Electrical – the Darwin experts for designing your custom air conditioning system.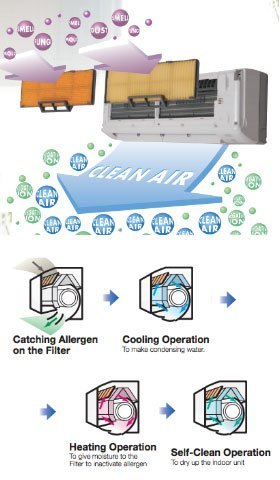 Split System Air Conditioning Systems for you
The performance includes capacities from as low as 2.0kW to as high as 9.5kW giving you flexibility to air condition the smallest bedrooms to the largest entertainment areas of your home.
Self Clean Operation
This unique operational feature allows the system to dry the unit completely after each use. Running on an ultra low speed, the indoor fan silently 'cleans' the system of all moisture which restricts growth of mould and mildew. Choose this 'Self Clean' operation via your remote control.
Allergen Clear System
The 'Allergen Clear system' suppresses the influence of the allergen caught by the filter by controlling the temperature and humidity.
Mitsubushi Heavy Industries' Darwin Air Conditioning Experts
Dunwrights will design the system based on your needs, supply the new Mitsubishi Air Conditioning systems, complete the split system installation of your new Mitsubishi  Heavy Industries Air Conditioner and complete your air conditioner service on the system when needed –  for less cost than you think. We also offer repairs or cleaning of older air conditioning units as well no matter the brand.