When it comes to fire safety and smoke alarm installation at home there are some things you need to know. For example smoke detector requirements for rental properties in the NT – the ionization detector is no longer legal and a photoelectric battery operated or mains hard wired smoke detector is the minimum requirement type of fire alarm allowed.
The vast majority of Australian homes have at least one, though one almost never enough.  And yet, regardless of the exact number, smoke detectors are often not installed and properly maintained.  Even hard-wired smoke detectors have back-up batteries Backup batteries need to be changed at least once a year if you insist on using a back up battery.  Detectors should be tested on a yearly basis by a smoke alarm installer in Darwin, especially since the battery isn't the only thing that can cause a smoke detector to fail.
You'll better understand the importance of all this when you consider the following from 2013:
There are about 11,000 house fires in Australia each year. In fact, one in five Australians will experience a house fire in their lifetime.
In Australia, more than 50 deaths are recorded each year as a result of accidental house fires. The majority of deaths occur between 9pm and 6am, and the elderly (people aged 65 and over) have a disproportionately higher fire death rate compared to the rest of the population.
House fires are more common in winter months when people are using fires, heaters and other electrical equipment, although fires may occur at any time of the year.
There are requirements for smoke detector installation. All new homes must have detectors or a fire alarm located as per code. They should be linked so that each alarm will automatically signal the others so the alarms turn on all at once.  There's no way you cannot be alerted to a potential fire with linked alarms.
Plus, hard-wired smoke detectors in Darwin can be tied into your home security system so the fire department will instantly be alerted once the alarm triggers.
Smoke alarms have evolved and they are now a very sophisticated early warning system.  A photoelectric smoke detector is now the minimum requirement for your home as ionization type smoke alarms are illegal in the Northern Territory as a stand alone detector. We have mains voltage alarms with lithium backup battery, lithium battery alarms with 10 year battery, battery backup mains alarms with 9v dc batteries to name a few.
As electricians in Darwin we don't recommend the 9v battery backup photoelectric type for a number of reasons. Fire safety and electrical safety for your family is the sole most important thing in your home. People neglect to test the batteries causing annoying beeping and given time the photoelectric smoke alarms no longer work as intended.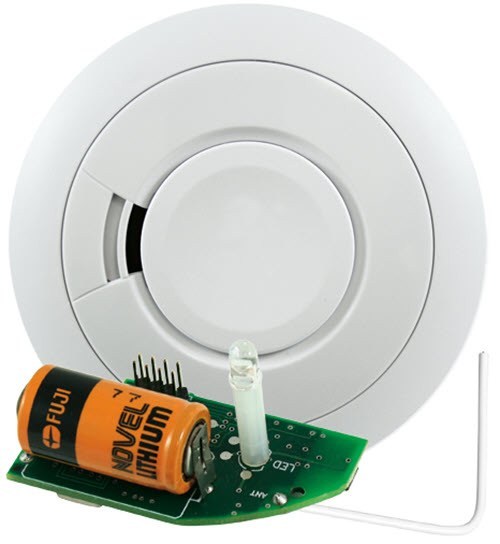 Difference between smoke alarms
The difference between smoke alarms is that the photoelectric smoke detector works by using a beam of light aimed off centre to a photoelectric sensor. When smoke fills the chamber  the light is dispersed in an uneven manner causing the alarm to go off. These come in hardwired and battery. A photoelectric detector is the requirement for all rental or sale homes in the NT whether it is a battery operated smoke alarm or hard wired.
Ionization type  smoke detectors have radioactive material within that sits between two contacts or plates with a constant power source creating an electrically charged environment. These plates attract positive and negative electrons  which become positively charged and negatively charged ions. When the smoke enters the chamber it neutralises ionization of the air and movement of the positive and negative electrons. This in turn causes current flow to drop thus setting off the alarm. These come in hard wired or battery, however they are not legal in the Northern Territory.
Which one is the right choice for you comes down to the situation and what state you live in. We believe at the very least everyone deserves the rights to have a working smoke alarm in your home.
Contact Dunwrights today to schedule your smoke detector installation or for more information on why good quality long warranty smoke detectors are the better choice.