Welcome to smart, 7-star Darwin air conditioning from Dunwrights Electrical and Mitsubishi Heavy Industries with a fair dinkum 7 Year Warranty!
Just perfect when you truly want reliable, efficient, and effective Darwin air conditioning, the Mitsubishi Heavy Industries wall mounted series has expanded to include the new Avanti PLUS Platinum series of Air Conditioners, currently available exclusively through Dunwrights Electrical.
This air conditioner is quiet and smart enough to turn itself off if it senses you have accidentially left it on when you're not home
With a capacity range of 2.0kW-6.0kW, these systems can heat or cool the smallest of bedrooms to larger entertainment areas, all the while keeping air quality top notch through Mitsubishi's comprehensive range of filters and functions.

And what we look for in Darwin air conditioning, when we make recommendations to our clients, is rock solid reliability, which the new Avanti PLUS Platinum series delivers in spades!
These air conditioners look great and work great and the smartest ways to get this technology into your home is to arrange purchase and installation through our Premium Gold 7 STAR ENERGY RATED Darwin Air Conditioning Package, which gives you the ONLY 7 YEAR WARRANTY in the Northern Territory (if not, Australia) on both the Air Conditioner Unit AND the Installation – terms and conditions apply so click through to find out more.
Here's more information about these amazing air conditioning units that we are ready to supply, install, and maintain for you.
The new inbuilt motion sensor will detect the presence, absence and activity levels of those in the room to improve comfort and energy saving performance.
When no activity is detected the unit will go in to standby mode until activity is detected again.
If no activity is detected for 12 hours the unit will automatically switch off.
This unique operational feature allows the system to dry the unit completely after each use. Running on an ultra low speed the indoor fan silently 'cleans' the system of all moisture which restricts growth of mould and mildew. Choose this 'Self Clean' operation via your remote control.
The 'Allergen Clear system' suppresses the influence of the allergen caught by the filter by controlling the temperature and humidity.
Stay in control of your Darwin air conditioning, like never before!
With this 7-star air conditioner from Mitsubishi Heavy Industries, you not only save money with extra efficiency but you get more air everywhere with its smart, powerful, aerodynamic analysis technology. This is the same technology as used in the development of jet
engines! Mitsubishi uses CFD (computational fluid dynamics) in the design of the air channels in Avanti PLUS, to deliver a uniform and gentle breeze, thus letting the jet air stream deliver a large volume of air without consuming much power.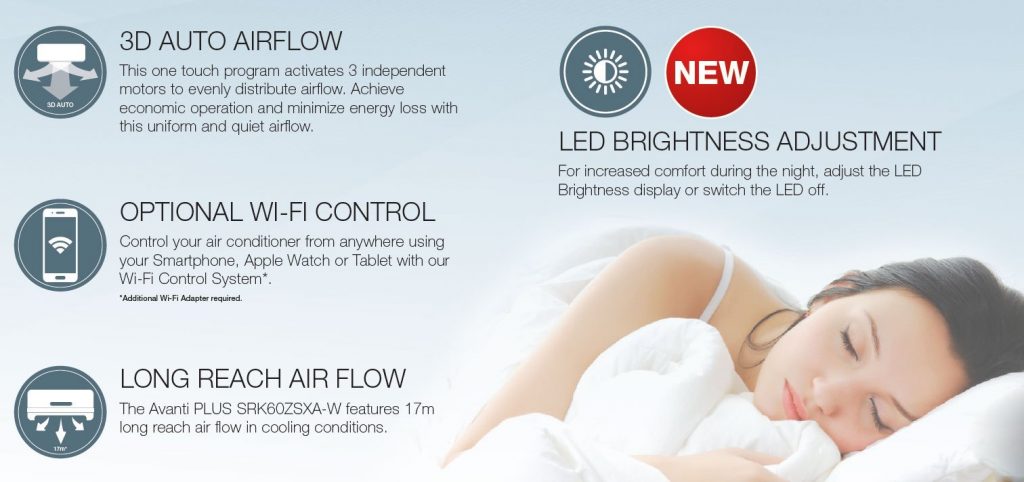 Darwin Mitsubushi Air Conditioning Design, Supply & Installation
Dunwrights will design the system based on your needs, supply the new Mitsubishi Air Conditioning systems, install your new Mitsubishi Avanti PLUS Air Conditioner and service the systems when needed – for less cost than you think. We also offer servicing, repairs or cleaning of older air conditioning units.
Are you eligible for the a government grant? It is time now to apply to save you some of that hard earned cash! Read here to find out more.
See our Gold Air Conditioning Package from Dunwrights and Mitsubishi today and give us a call to find out how soon you too can have air conditioned comfort in your home.
Priding itself on reliability, Mitsubishi Heavy Industries will keep your air conditioner working perfectly over the years to ensure that your family will enjoy air conditioned comfort all year round.